# 13
WAGON MASTER

(Argosy/RKO, 1956)
DIRECTOR: John Ford; PRODUCERS: John Ford and Merian C. Cooper; WRITERS: John Ford, Frank S. Nugent, and Patrick Ford; CAMERA: Bert Glennon
CAST: Ben Johnson, Joanne Dru, Harry Carey, Jr., Ward Bond, Charles Kemper, Alan Mowbray, Jane Darwell, Russell Simpson, James Arness, Hank Worden, Francis Ford, Cliff Lyons, Jim Thorpe, Ruth Clifford, Kathleen O'Malley, Don Summers, Movita Castenada, Chuck Hayward, Frank McGrath, Dickie Moore
DENVER (Joanne Dru): And don't call me ma'am.
TRAVIS BLUE (Ben Johnson): Yes, ma'am.
The mean, low-down Clegg clan:
SHILOH (Charles Kemper)
LUKE (Hank Worden)
REESE (Fred Libby)
FLOYD (James Arness)
JESSE (Mickey Simpson)
Harry Carey, Jr. (L) rode "Mormon," his personal horse, in the film
A couple of young horse traders, Travis Blue (Ben Johnson) and Sandy Owens (Harry Carey, Jr.), have just sold their herd in the town of Crystal City. They are approached by two Mormon elders, Jonathan Wiggs (Ward Bond) and Adam Perkins (Russell Simpson), who wish to hire them to lead their wagon train to the San Juan Valley in Utah. The Mormons are making the journey because they have been forced to leave the area because of their religion.
The two young horse traders reluctantly agree to take on the job. In the course of the journey westward the wagon train meets up with a group of medicine show performers, who have run out of water after also being forced to leave Crystal City. Despite some reluctance on the part of the Mormons, the performers are allowed to travel with the wagon train.
As they continue your trek westward, the settlers have to contend with weather, topography, Indians, and, most dangerous of all, the Cleggs, a family of five murderous fugitives headed by Uncle Shiloh (Charles Kemper).
Mormons heading West
On occasion Ford enjoyed taking a pause to catch his breath by making a low-budget film for the sheer enjoyment of it. WAGON MASTER is such a picture and Ford always said that it was one of his favorites.
Ford's stock company is well-represented here, but there is one difference: there is no John Wayne, no Henry Fonda, meaning there is no star. No stars and shot without fanfare, it seemed to be Ford's response to a world of increasing complexity and a tribute to the abiding values of courage and endurance, loyalty, and faith in troubled times. It is a return to the simple world of Ford's early Westerns, to the sweat and hardship, detail, and dirt of the lives of the settlers and outlaws.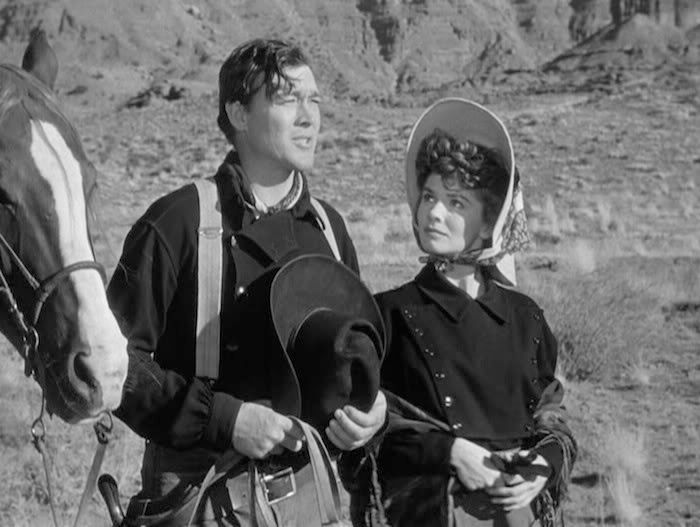 (L-R) "Steel," Ben Johnson, Joanne Dru
Some have speculated that Ford did not cast any stars because he wished to elevate Johnson to leading man status with this film the way he did John Wayne in STAGECOACH (UA, 1939), a film that was also without stars in its cast. It didn't happen, though there is no reason why it shouldn't have, for Johnson was very good.
Johnson was a native of Oklahoma who grew up on a ranch and was an expert horseman. He became involved in the movie business when he was contracted to deliver a herd of horses to Arizona to be used in the Howard Hughes film, THE OUTLAW (UA, 1946). He was then hired to wrangle the horses and perform some stunts. For most of the rest of the decade he did similar work.
He came to the attention of John Ford during the filming of FORT APACHE (RKO, 1948) when he saved several people involved in a runaway team and wagon. Ford rewarded the young cowboy by signing him to a contract.
Johnson was given a speaking part as a member of the posse in Ford's 3 GODFATHERS (MGM, 1948); co-starred with Terry Moore in MIGHTY JOE YOUNG (RKO, 1949), which was filmed by Ford's Argosy Pictures production company; and was cast in a prominent role in the director's SHE WORE A YELLOW RIBBON (RKO, 1949), which led to his starring role in WAGON MASTER. That same year he excelled in the third film in Ford's so-called "cavalry trilogy," RIO GRANDE (Republic, 1950).
However, something occurred during the making of that film that led to an estrangement between Ford and Johnson to the point that Johnson did not appear in another Ford film until CHEYENNE AUTUMN (WB) in 1964.
Johnson was a busy actor throughout the 50s and 60s, appearing primarily in Westerns, and in 1971 he won an Oscar as Best Supporting Actor for his outstanding performance in THE LAST PICTURE SHOW (Columbia, 1971), which was set in the modern West.
Be sure to watch for the scenes in WAGON MASTER involving Johnson's flight from a band of Indians on what appears to be his favorite movie horse, a magnificent sorrel named Steel. However, Johnson has said that in those scenes that he was actually riding Steel's double, "Bingo." It seems that by this time Steel had become so valuable that precautions were taken to ensure that he would not be injured.
Harry Carey, Jr., like Johnson, was an important member of the Ford stock company. And the two would eventually appear in eight films together, becoming the best of friends.
Carey was the son of Harry Carey, Sr., who had been Ford's first star during the silent film era. Father and son appeared together in only one film, RED RIVER (UA, 1948), but never in the same scene. When Ford made 3 GODFATHERS, he co-starred the young Carey with John Wayne and Pedro Armendariz and dedicated the film to Harry Carey, Sr., who had starred in Ford's silent version of the film.
Ward Bond first began appearing in films in 1929. For years he acted in low-budget films, usually as a heavy, or was given only bit parts, usually portraying a thug, a cab driver, or a cop in the more prestigious films. He became part of the Ford stock company in the 30s, but his roles did not become significant until his role as Morgan Earp in MY DARLING CLEMENTINE (Fox, 1946).
From 1957-61, Bond starred in the hit TV western, WAGON TRAIN, which was loosely based on WAGON MASTER. Some of the episodes of the program were aired after his death. He died in 1960. He was 57-years-old.
Joanne Dru's (born Joanne Latitia Lacock) film career got off to a great start with her second film, RED RIVER. Just a year later she found herself playing the lead role in Ford's SHE WORE A YELLOW RIBBON, and the year after that, WAGON MASTER.
The same year as WAGON MASTER, she co-starred with John Ireland (her husband) and Broderick Crawford in the classic story about southern politics, ALL THE KING'S MEN (Columbia). After that she worked steadily but neither her roles nor the films she appeared in came up to the standards of her earlier work.
Cliff Lyons, stunt coordinator and stuntman extraordinaire, has a speaking role as a sheriff. He seemed to be too pudgy and out of shape to be a stuntman, but was nevertheless very athletic and earlier in his career was a perfect double for the pudgy, but unathletic, Gene Autry.
REVIEWS:
"Perhaps not a masterpiece, but thorougly enjoyable and one of Ford's own favorites among his Westerns....Leisurely but pleasant. -- Steven H. Scheuer
"It has been called lyrical, poetic and beautiful; for the most part I fail to find those qualities in much of it, except in Bert Glennon's photography, some of which is stunning. It is an overrated movie by and large....Still, the two leading men [Johnson and Carey] have great charm and appeal." -- Brian Garfield in Western Films
Like STAGECOACH, the film is also a comedy of social prejudice as well as a hymn of praise of community in adversity...." -- Andrew Sinclair in John Ford
"It is a lovely, leisurely movie, full of romanticized reincarnation of the pioneer spirit, all beautiful images and stirring ballads. Photographically, it is extremely simple. The camera moves only once or twice in the entire film...." -- William K. Everson in A Pictorial History of the Western Film
"Once described as an 'intimate epic' and several times named by Ford as his favorite film...[it] is surely [his] most optimistic and uncomplicated Western....Johnson in particular...gives a marvellous, dignified performance. This is a great film." -- Phil Hardy in The Western
"...very rich in gentle, nostalgic emotion, underscored by comedy....This deceptively unpretentious film is in many ways the high point of Ford's Westerns. Ford's optimism and pessimism are in perfect balance." -- J.A. Place in The Western Films of John Ford
Character actress Jane Darwell, seen here in a scene from WAGON MASTER, was "Ma" Joad in Ford's THE GRAPES OF WRATH (Fox, 1940).