# 21
C
OMANCHE STATION
(Ranown/Columbia, 1960)
DIRECTOR: Budd Boetticher; PRODUCER: Budd Boetticher; EXECUTIVE PRODUCER: Harry Joe Brown; WRITER: Burt Kennedy; CAMERA: Charles Lawton, Jr.
CAST: Randolph Scott, Nancy Gates, Claude Akins, Skip Homeier, Richard Rust
Randolph Scott negotiates Nancy Gates' freedom
This is the last of the Westerns made by the Boetticher-Scott-Brown-Kennedy team. In plot structure it owes much to the earlier RIDE LONESOME (Columbia, 1959), but is nevertheless a superior Western.
Just as the Anthony Mann-James Stewart Westerns always give us a protagonist attempting to escape a painful past, the Boetticher-Scott Westerns give us one attempting to avenge a painful episode in his past -- often one involving his wife. In this instance, his wife has been kidnapped by the Comanches and he has been trying to find her for several months.
He fails, but does locate another woman (Gates) who is a captive and after bartering for her freedom he attempts to return her to her home. Along the way he is forced to contend with marauding Indians and a trio of outlaws (Akins, Rust, Homeier).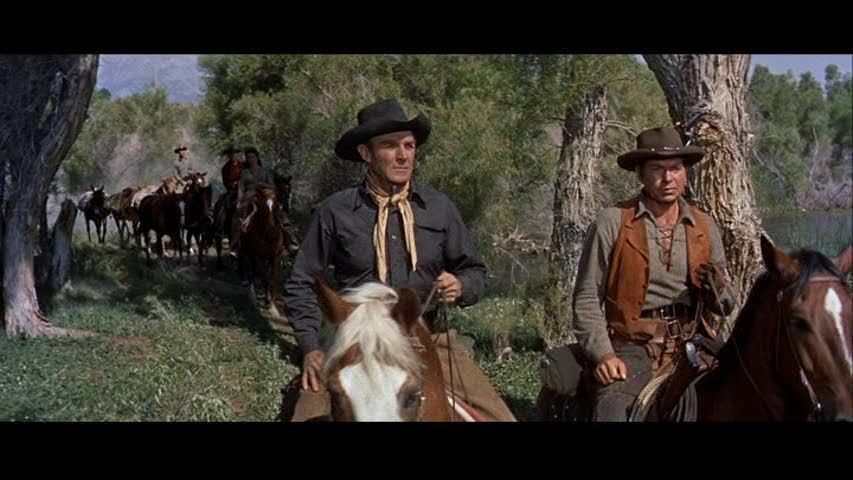 Randolph Scott and Claude Akins
Nancy Gates, Randolph Scott, and Claude Akins
COMANCHE STATION
is shot in the Alabama Hills in and around Lone Pine, California, a location that Boetticher said was his favorite.
Despite being in excellent physical condition, Scott, who by this time was in his early sixties, planned to hang up his six-gun, unsaddle his horse, and retire after COMANCHE STATION. If he had done so, the film would have been a fitting conclusion to the career of the individual who, with the exception of some B-Western actors, starred in more Westerns than any other actor. But two years later, after being lured out of retirement, he saddled up one last time to RIDE THE HIGH COUNTRY (MGM, 1962). It would be his finest

performance

.
REVIEWS:
"... it has that peculiar dark-side quality that the best of the Kennedy-Boetticher-Scott oaters had, and it's consistently exciting...." -- Brian Garfield in Western Films

: A Complete Guide
"...a consistently taut and exciting tale which is enhanced by strong performances by Nancy Gates, Claude Akins, Richard Rust, and, in his best performance ever, Skip Homeier....Kennedy supplies a nice twist as a fitting conclusion to the gritty little film." -- Stormy Weathers in Under Western Skies

Randolph Scott and "Stardust," the dark palomino he rode to good effect in his later color films