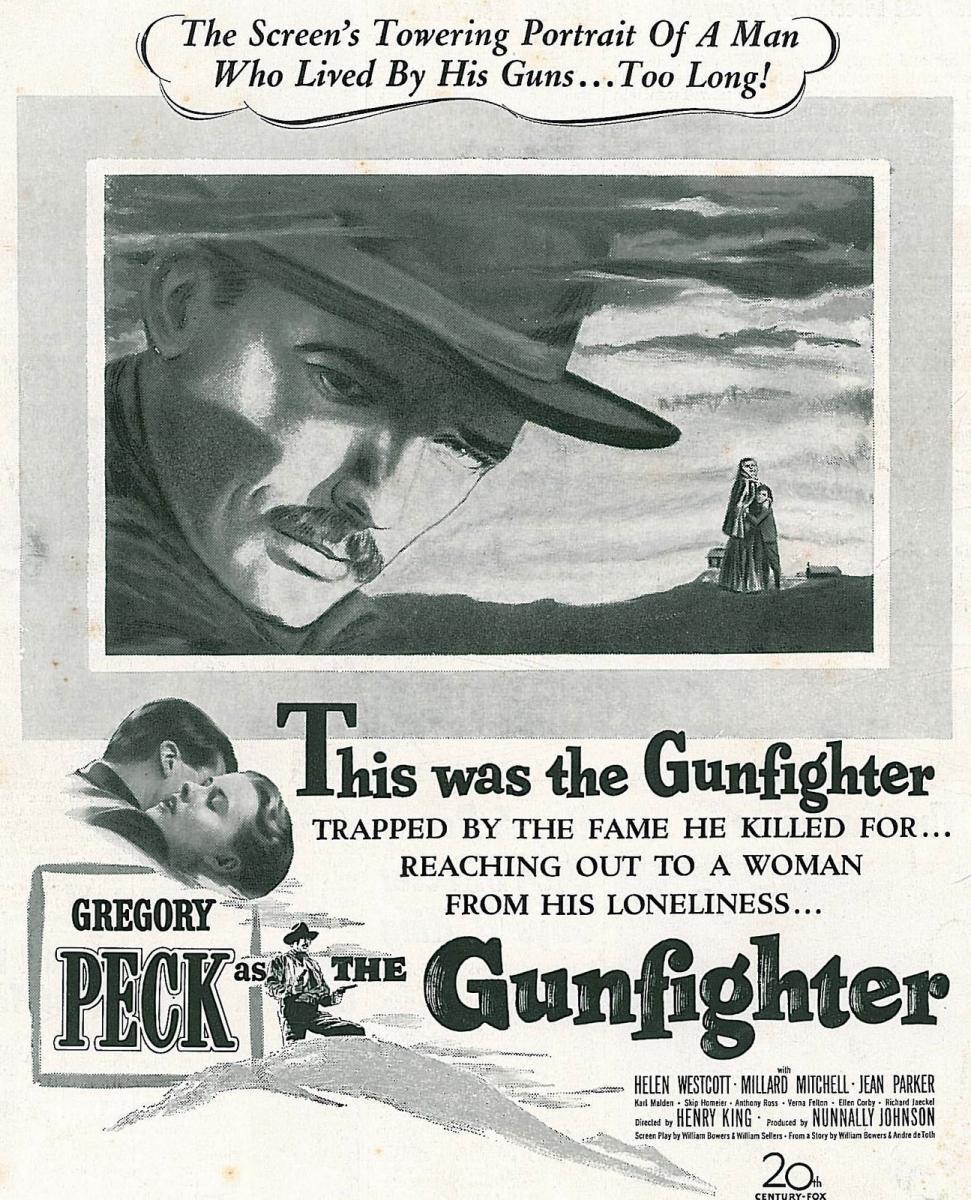 Gregory Peck is Jimmy Ringo, The Gunfighter. The studio hated his authentic mustache and blamed it for the movie's lack of popular success. But for the most part, the critics gave the film very good reviews.
# 16
THE GUNFIGHTER

(Fox, 1950)
DIRECTOR: Henry King; PRODUCER: Nunnally Johnson; WRITERS: William Bowers, Andre deToth, and William Sellers; CAMERA: Arthur Miller
CAST: Gregory Peck, Helen Westcott, Millard Mitchell, Jean Parker, Karl Malden, Skip Homeier, Richard Jaeckel, Verna Felton, Ellen Corby, Alan Hale, Jr., John Pickard, B.G. Norman, Kenneth Tobey, Hank Patterson, Mae Marsh, Harry Shannon, Gregg Barton
An aging gunfighter, Jimmy Ringo (Peck), begins to value peace more highly than his reputation. He'd like to settle down and hang up his gun, maybe even try to put things back together with his young son and ex-wife (Westcott); but there are too many wild, glory-hunting kids (Jaeckel, Homeier) coming after him, challenging him to one more duel.
This literate Western was at least a decade ahead of its time. Although critics liked it, audiences did not. They would have liked it during the 60's, however, when its re-examination of the Western myth was in vogue.
Gregory Peck had made his film debut in 1944. For his role in THE KEYS OF THE KINGDOM (Fox) in the following year, he received the first of his five Oscar nominations. He would eventually capture the prize with his signature performance in TO KILL A MOCKINGBIRD (Universal, 1962). Although he won no awards for THE GUNFIGHTER, his performance as Jimmy Ringo ranks as one of his best screen portrayals.
The only Oscar nomination for the film went to Bowers and deToth (ordinarily a director) for their original story. DeToth was quoted as saying that the story had been written with Gary Cooper in mind and that he was disappointed when Peck was cast in the role. Cooper, of course, would have been great in the role, but it is doubtful that he would have been any better than Peck.
Millard Mitchell was a talented actor who was always good in western roles. In THE GUNFIGHTER he portrays Mark Strett, who was once a friend of Jimmy Ringo's, but after reforming is now the town marshal and finds himself caught in the middle between his desire to help his old friend and the necessity of maintaining the peace.
Mitchell's career was at its peak during this period. The year before, he had supported Peck in the outstanding WWII film, TWELVE O'CLOCK HIGH (Fox), also directed by Henry King. In the same year that THE GUNFIGHTER was released, he supported James Stewart in Anthony Mann's WINCHESTER '73 ( Universal). Sadly, his last role would be in 1953 in another strong performance in a Mann-Stewart Western, THE NAKED SPUR (MGM). Mitchell was only fifty-years-old when he died later that year.
Also in supporting roles are Skip Homeier and Richard Jaeckel as young gunfighters out to make their reputations by out dueling the veteran gunfighter.
Skip Homeier confronts Peck as Karl Malden watches from behind the bar
"How come I've got to run into a squirt like you nearly every place I go these days? What are you trying to do? Show off to your friends?" -- Jimmy Ringo (Gregory Peck) speaking to Eddie (Richard Jaeckel)
Richard Jaeckel committing a big mistake
For some years it seemed as though a movie about WWII could not be made without the presence of Jaeckel in the cast. In fact, five of his first six roles were in such films, beginning with GUADALCANAL DIARY (Fox, 1943), when he was only seventeen-years-old. And throughout his career he was always an effective performer, often better than the films in which he appeared. He finally received overdue notice for his work when he was nominated for a Best Supporting Oscar for his outstanding performance in SOMETIMES A GREAT NOTION (Universal, 1971).
Henry King directed over a hundred feature films, beginning in 1916 and ending in 1962. THE GUNFIGHTER was the second King-Peck collaboration, TWELVE O'CLOCK HIGH being the first. They would make four more films together, including THE BRAVADOS (Fox), a well-made and entertaining Western released in 1958.
Bosley Crowther, in discussing THE GUNFIGHTER in the New York Times, wrote with tongue in cheek that "the gunfighter might have stayed clear of trouble and consequent danger if he had merely kept out of bars." In that same vein, John Ford was once asked why the Indians didn't just shoot the horses pulling the stage in his classic Western, STAGECOACH (UA, 1939). His reply was something to the effect that if that had happened it would have been a mighty short movie.
Crowther did continue by writing that "such restraint would have derived us of an arresting and quite exciting film." The same goes for not shooting the horses in STAGECOACH.
REVIEWS:
"
Gregory Peck perfectly portrays the title role, a man doomed to live out his span killing to keep from being killed. He gives it great sympathy and a type of rugged individualism that makes it real." -- Variety
"...is a surprisingly (and enjoyably) grubby...very offbeat Western for its time....Helen Westcott is a bland female lead, but the rest of the cast is just right...one of Peck's best performances....This was Academy-Award winning cinematographer Arthur Miller's penultimate film." -- Steven H. Scheuer
"The yarn has become a cliche because it was imitated so extensively; the film precipitated an entire cycle of gunfighter Westerns. Still, by comparison with its imitators, it remains the towering example....a fine Gregory Peck performance as the doomed fighting man; for all its moody bitterness it is still capable of stirring the heart." -- Brian Garfield in Western Films
"THE GUNFIGHTER creates such a mood of inexorable Greek tragedy that no matter how many times one sees it, one is always hoping subconsciously for that accidental change of circumstances or timing that will bring about a happy ending....[It] is a major classic among Western movies." -- William K. Everson in A Pictorial History of the Western Film
"...the film gives a poignant demonstration that the lonesomest man in the world is an old, glory-trailing gunfighter -- and this is a Western you should see." -- Bosley Crowther in the New York Times
"...Peck is so good in the chief role that he dominates the film from beginning to end, but has ample support." -- Howard Barnes in the New York Herald-Tribune

"The glamour is ripped from Ringo and the only thing left is a man in pain, engaging in what he knows in his gut to be a futile attempt to find a place in a more civilized West....There is no retirement home for gunfighters but the grave." -- William R. Meyer in The Making of the Great Westerns