#

12
RIDE LONESOME
(Ranown/Columbia, 1959)
DIRECTOR: Budd Boetticher; PRODUCER: Budd Boetticher; EXECUTIVE PRODUCER: Harry Joe Brown; WRITER: Burt Kennedy; CAMERA: Charles Lawton, Jr
CAST: Randolph Scott, Karen Steele, Pernell Roberts, James Coburn, James Best, Lee Van Cleef, Boyd Morgan, Roy Jenson, Boyd Stockman
"There are some things a man just can't ride around." -- Sam Boone (Pernell Roberts)
The above line was given to Randolph Scott's rival in this film, but it is an apt description of the Scott character in all of his collaborations with director Budd Boetticher and is the overarching theme in those films. In fact, Boetticher and screenwriter Kennedy gave virtually the same line to Scott two years earlier in THE TALL T (Columbia).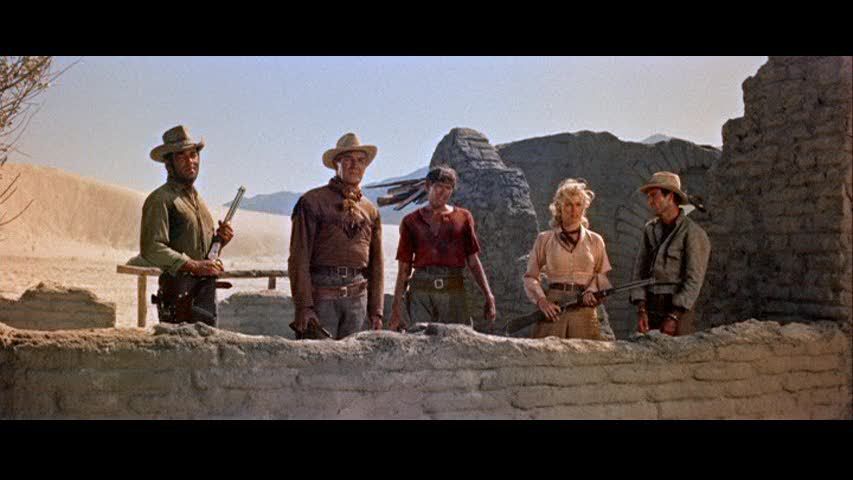 (L-R) Pernell Roberts, Randolph Scott, James Coburn, Karen Steele, James Best
James Stewart and Anthony Mann came close, but only one actor-director team made a consistently better group of Westerns than the team of Scott and Boetticher, and that was John Wayne and John Ford. High praise, indeed, but justifiably deserved.
In these films, Scott was at his peak as a performer. Although he was 53-years-old when the series began, he did not show it. As the years had passed his weather-beaten countenance, dignified voice and manner, coupled with his improved acting, had made him appear even more authentically a man of the West.
In many ways the Scott-Boetticher films were a throwback to the silent films of William S. Hart and Harry Carey. The best of them were austere, sparse, lean films with mature plots that usually found the Scott hero embroiled in a solitary quest, avenging wrongs, and never riding around anyone or anything.
Harry Joe Brown, who directed B-Westerns during the silent era, was Scott's partner in a production company that filmed all but two of the Scott-Boetticher films, and had for many preceding years produced the actor's films.
Burt Kennedy, who would later become a director who specialized in Western spoofs, of which SUPPORT YOUR LOCAL SHERIFF (UA, 1969, starring James Garner) and THE ROUNDERS (MGM, 1956, starring Glenn Ford and Henry Fonda) are the best examples, provided the screenplays for the four best films in the series. In fact, his very first movie screenplay was written for the first Scott-Boetticher film, SEVEN MEN FROM NOW (WB, 1956).
In
RIDE LONESOME
, after bounty hunter Ben Brigade (Scott) captures wanted killer Billy John (Best) he plans to take him to the town of Santa Cruz. At an isolated stage way station, the two meet up with outlaw Sam Boone (Roberts) and his partner, Whit (Coburn), as well as the missing station manager's wife, Carrie Lane (Steele).
BILLY JOHN (James Best): "I don't know how much they're paying you to bring me in, but it ain't enough. Not near enough."
BEN BRIGADE (Randolph Scott): "I'd hunt you for free."

Brigade discovers that Boone and Whit were also looking for Billy John, but for different reasons. They had learned that amnesty had been offered to any outlaw who captured and brought him in and they are ready to quit the outlaw trail and settle down and Billy John is their passage to that new life. These circumstances set up a conflict between Brigade and Boone similar to that between Scott and Lee Marvin in SEVEN MEN FROM NOW and Scott and Claude Akins in COMANCHE STATION (Columbia, 1960).
Brigade has to accept the assistance of the two outlaws because he faces the daunting prospect of getting Billy John to Santa Cruz, and also Mrs. Lane, and there are not only Indians on the warpath in the area, but Billy John's older brother Frank (Van Cleef) is on their trail. Boone eventually realizes that for some reason Brigade wants Frank to catch up with them.
And like the other two films mentioned earlier, RIDE LONESOME is what writer Burt Kennedy called a "trek" Western. In each case a small group of people, including a woman, are traveling toward a destination, with Scott as the protector who is forced to depend upon the assistance of adversaries who are as central to the story as he is and who share as much screen time and are given as many lines of dialogue as he is given.
James Best leads the way followed by James Coburn, Karen Steele, and Randolph Scott (L) and Pernell Roberts following behind
Boetticher was quoted as saying that the only thing separating his heroes and villains was circumstance -- that if things had been different their roles might have been reversed. While that might be true in most cases, it is hard to accept that premise while viewing SEVEN MEN FROM NOW. In that film it is impossible to see the Scott character ever resorting to the tactics of Marvin's greedy, remorseless killer. But Boetticher's description does fit Roberts' Sam Boone character.
RIDE LONESOME's small cast is almost perfect. Of course, it helped to have Randolph Scott leading the way. But the others contributed in significant ways.
Pernell Roberts had made his film debut the year before in
THE SHEEPMAN
(MGM) and
RIDE LONESOME
was only his third screen role -- and he made the most of it. However, he was not a novice actor for he had been acting on the stage for a number of years and had been acting in television productions since 1956.
After Roberts' effective performance supporting Scott he became a TV star that same year when he was cast as the oldest Cartwright brother in BONANZA. He became frustrated with the restrictions and limitations that he felt commercial television in general, and the program specifically, placed on him. As a result of creative differences, he left the hugely popular and long-running series in 1965 and went back to the stage.
Pernell Roberts as Adam, Ben Cartwright's oldest son
Pernell Roberts and James Coburn
James Coburn made his film debut in RIDE LONESOME and it was quite obvious that there would be more to come. The following year he was cast in an important role in THE MAGNIFICENT SEVEN (UA) and the rest, as they say, is history.
Karen Steele appears to be miscast in her part. She was a competent actress, but she just didn't look the part. For one thing, she lives at an isolated stagcoach way station that is located in the desert. In such an environment the sun and the wind and the primitive conditions can take a toll on man and woman alike. But when Steele makes her first appearance she looks as if she just stepped out of a beauty salon.
That isn't entirely her fault, however. It was a common trait of Westerns in general that women in leading roles did not look as though they had ever spent a day in the West. But that's a discussion for a later time.
Karen Steele
Boetticher liked Steele, he liked her a lot. In fact, the two had entered into an affair two years earlier during the filming of the Scott film, DECISION AT SUNDOWN (Columbia).
Boetticher cast Steele in his next film, WESTBOUND (WB, 1959), the weakest of the Scott-Boetticher films, and the next year after that in his gangster drama, THE RISE AND FALL OF LEGS DIAMOND (WB).
The underrated James Best, like Roberts and Coburn, is perfectly cast in what is perhaps his best screen role. Lee Van Cleef doesn't receive much screen time, but he makes the most of it.
Budd Boetticher's first directing credit was in 1944. For years he would direct low-budget features, finally receiving some notice for THE BULLFIGHTER AND THE LADY (Republic, 1951), which was financed by John Wayne's production company, and made a star of the film's leading man, Robert Stack. Boetticher had a special interest in bullfighting and had spent a number of years in Mexico personally learning the skill and therefore was intimately acquainted with the sport. His original story for the film was nominated for an Oscar.

In 1956, John Wayne chose Boetticher to direct him in SEVEN MEN FROM NOW, a film to be produced by Wayne's Batjac Productions. However, when John Ford came calling with his offer to star Wayne in THE SEARCHERS (WB, 1956), Randolph Scott was given the starring role in SEVEN MEN FROM NOW and it became the first of the seven highly regarded films produced by the Scott-Boetticher team.

It has been written of Boetticher that he perhaps bridged the gap between the sentimental romanticism of John Ford and the detached cynicism and disillusionment of Sam Peckinpah. When one views the seven Scott films he directed, that seems to be a fair assessment.
REVIEWS:
"...a taut little suspenser with no flesh....It's nothing profound but it's solid craftmanship and good, lean, tense suspense all the way." -- Brian Garfield in Western Films: A

C

omplete Guide

"A magical Western...lasting proof of the suppleness of the genre in the hands of a team of people who can exploit its opportunities with intelligence and wit." -- Phil Hardy in The Western
"...the construction and pace are tightly controlled, the action unwinding with spell-binding formal rigor...." -- Jim Kitses in Horizons West
"Scott does a good job as the taciturn and misunderstood hero, but the two standouts are Best as the giggling killer and Roberts as the sardonic outlaw who wants to get away to a new start." -- Variety
"Unusally good supporting cast; including Coburn in his film debut." -- Leonard Maltin